RENT A DUNE BUGGY DUBAI TOURS
The most thrilling Desert Buggy Dubai experience.
The Desert Dune Buggy Dubai Tour is one of the most fun tour and adrenaline-pumping ways to explore the Arabian desert. Whether you're looking for a break from the city or want to get out on the open road and see the sights, Dune Buggy Tours Dubai has got you covered. We offer Hotel pickup and drop-off service from all over Dubai. 
DESERT BUGGY RIDE DUBAI PACKAGES IN 2023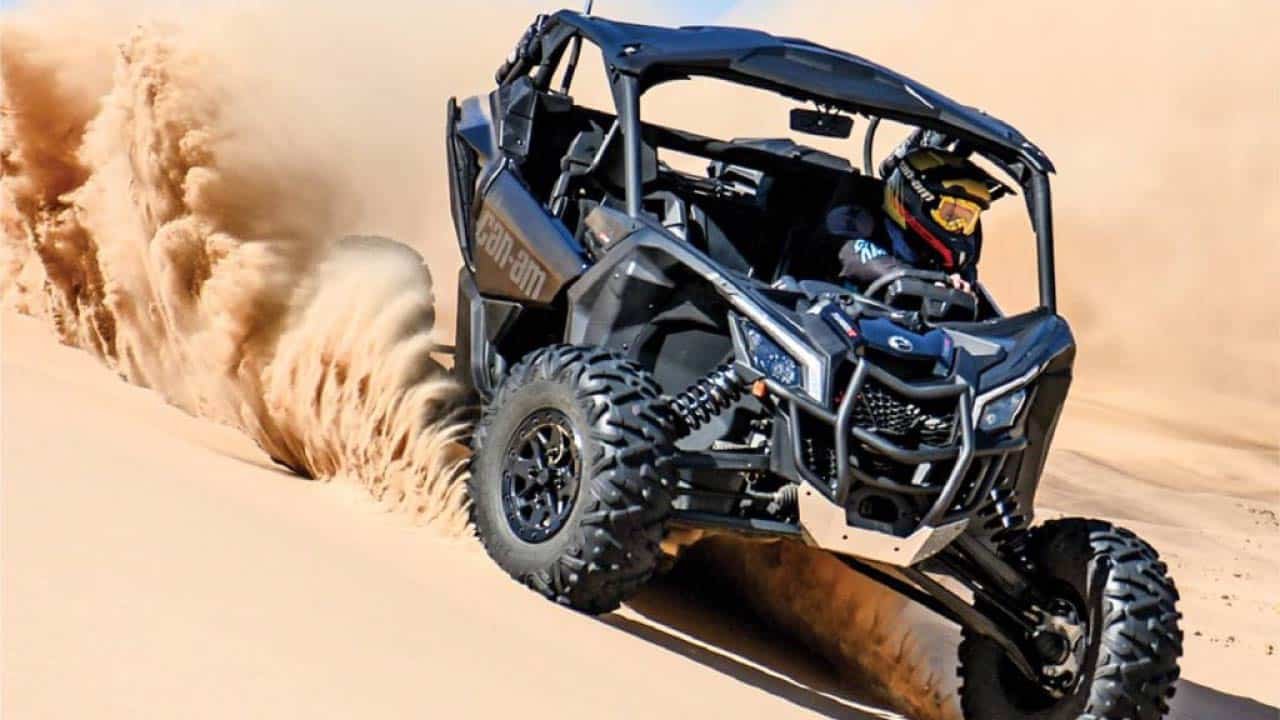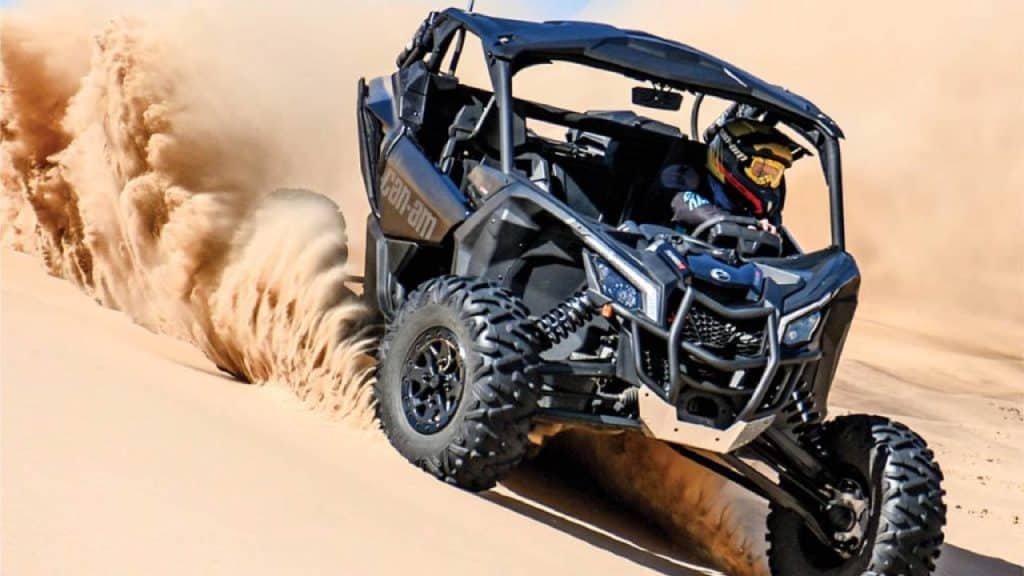 2-SEATER CANAM MAVERICK TURBO RR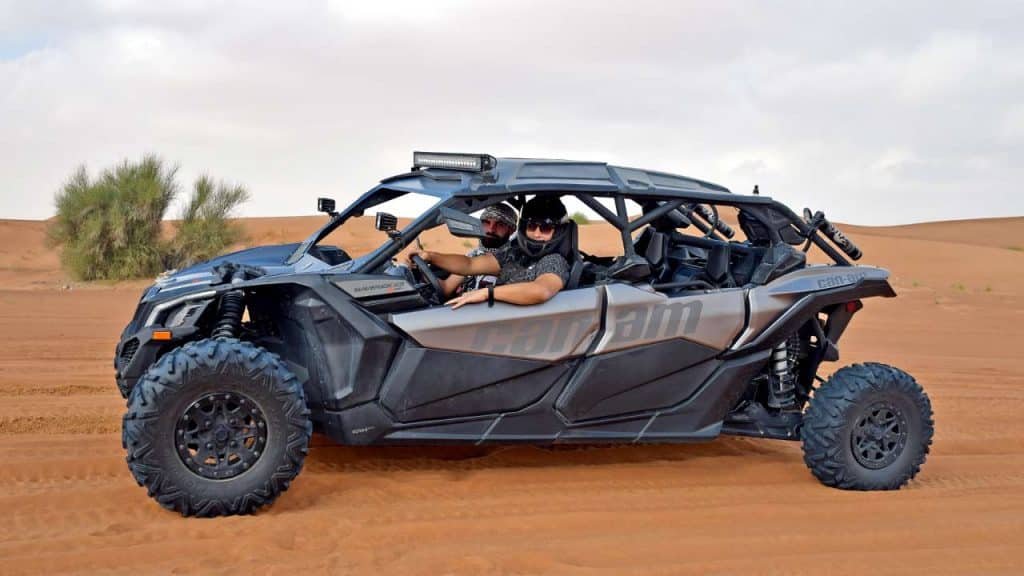 4-SEATER CANAM MAVERICK TURBO RR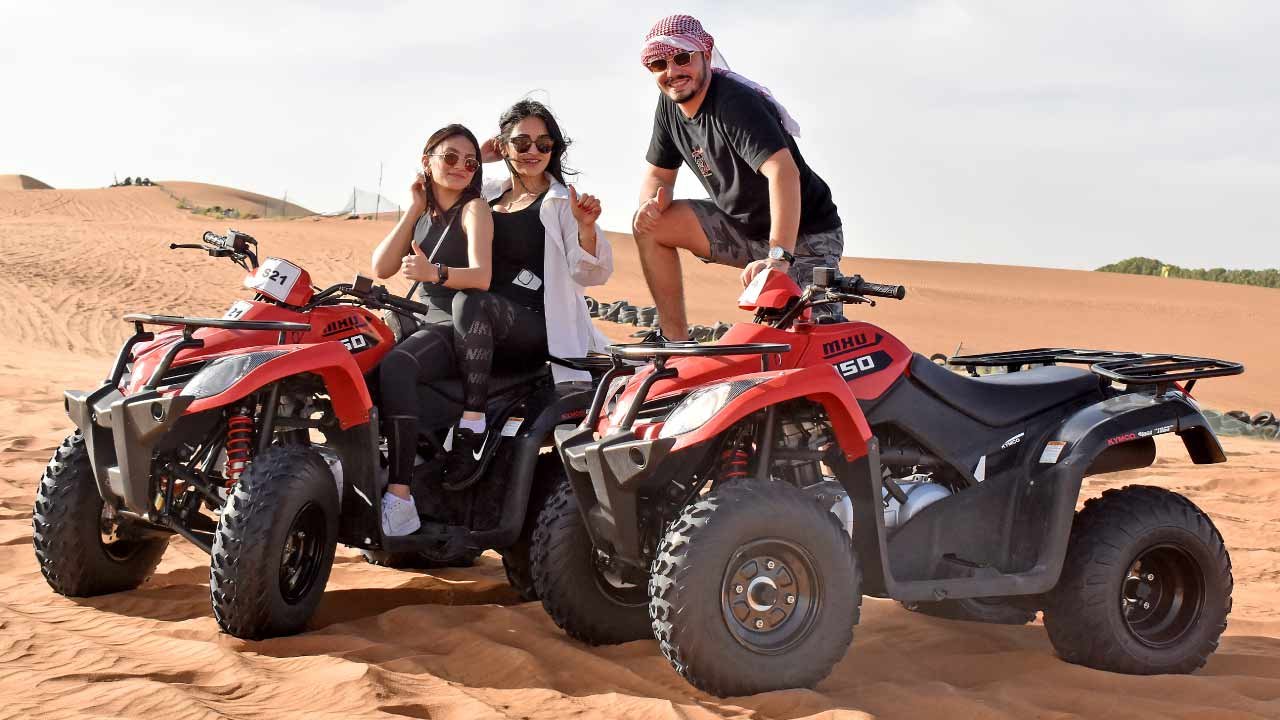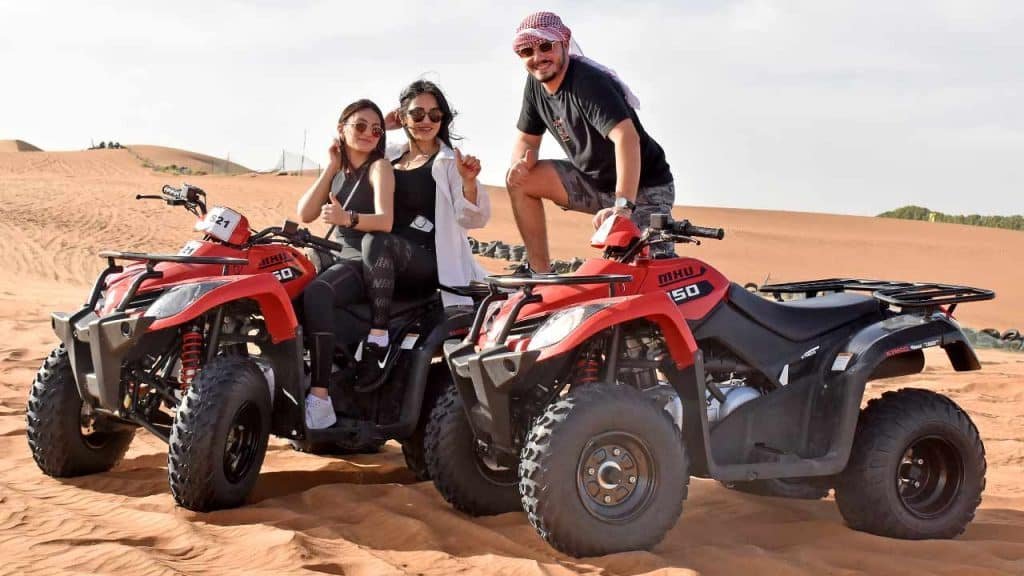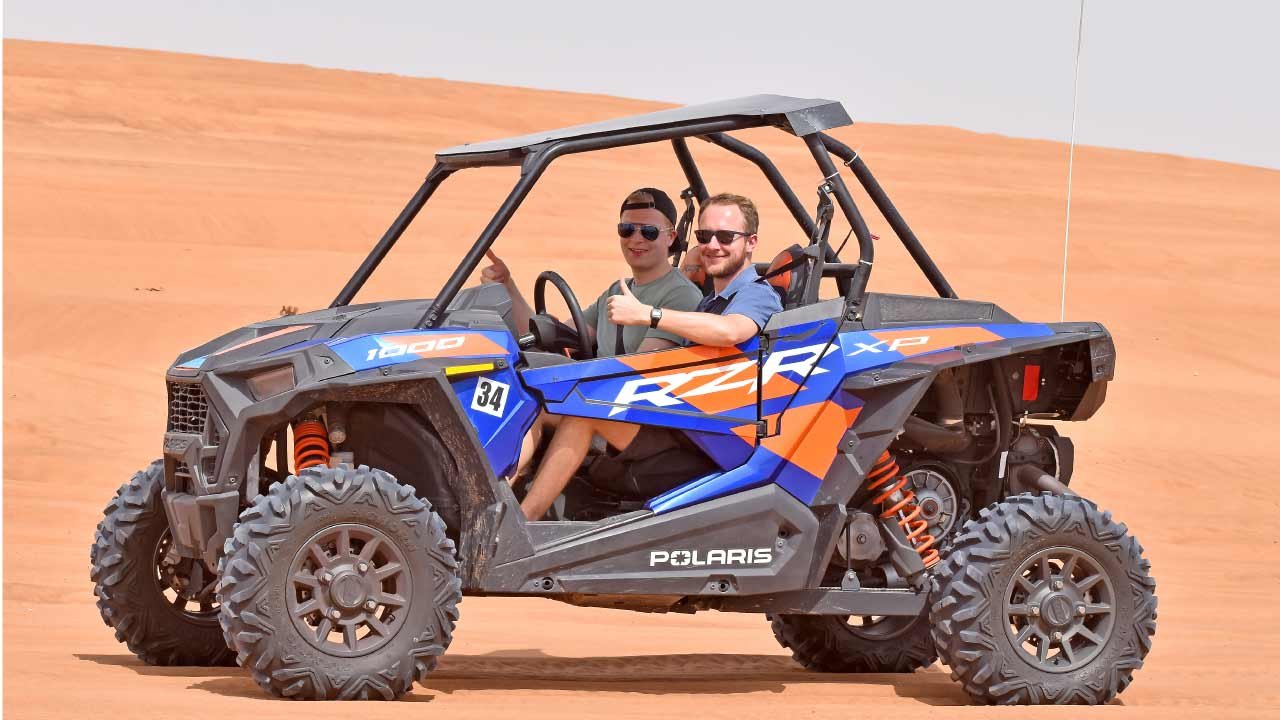 Book our adventures dune buggy safari and enjoy one of the most popular and exciting ways to explore the sandy area. We offer 30 – Minutes to 3 – days tours, which take you through the desert's most beautiful areas and some of its more remote locations. We also offer half-day tours of rides giving you more time to discover the Arabian desert on your terms. Contact us for booking and reserve now pay later.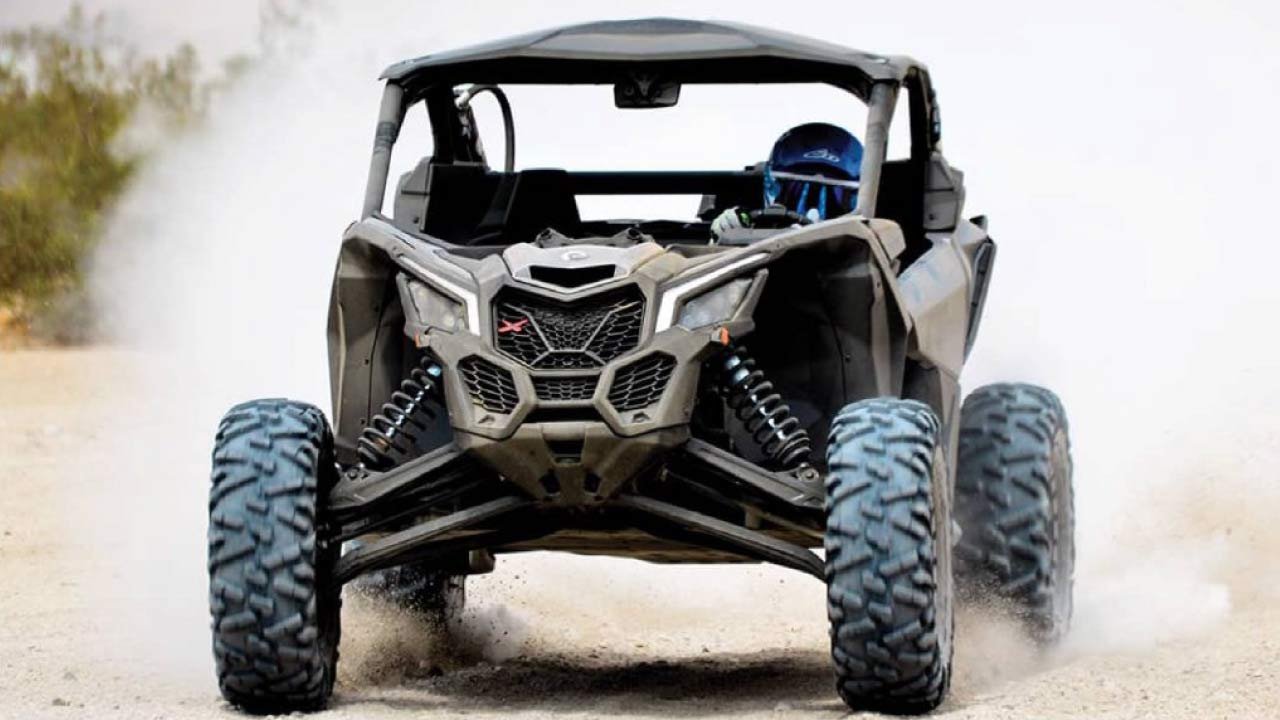 Suppose you are looking for a unique way to experience Dubai's desert through Canam dune buggy Dubai tour which allows you to explore the desert at your own pace – a must for adventure seekers. These buggies are popular among those who want to experience the thrill of driving on dunes and are suitable for beginners and experienced riders without any fear of getting stuck in the sand. 
The main attraction of these quad bikes is their maneuverability and speed. They are super-fast, so you can enjoy yourself at high speeds, which is great fun. You can drive around Dubai's desert and even try off-road tracks here in Dubai. So go off-road on the red dunes of the Dubai Desert and feel like you are in control of your destiny, making your trip more exciting.
Dune Buggy Dubai adventure is the best way to explore the beauty of the Arabian desert, with a fantastic selection of quads and buggies for rental tours. We have a wide range of vehicles perfect for your next adventure. Whether for a day or an entire week, we will match you with the right vehicle for your needs.
If you want a fun way to see Dubai, the Desert Buggy Dubai experience is the best. Polaris rzr is an open-top four-wheel drive vehicle with full roll cages that have been around for a long time. Our tours are an excellent way for red dunes sightseeing tours.
So, look no further than the dune buggy tours in Dubai. We offer affordable prices for Dune Buggy Ride including helmet goggles and free guides, sandboarding, complete safety equipment, water, and soft drinks. We also provide Hotel pick-up and drop-off by our luxury land cruisers and other 4*4 cars, so there's no reason not to book with us today!
Our Dune buggy riding experience are perfect for families, groups of friends, or couples who want to see the sights of Dubai while having a blast on four wheels. You can explore the desert or go off-road with our expert guides. We also have super cool Mavs!
We offer a variety of tours and activities, including the Single Seater Dune Buggy Rental, Double Seater polaris rzr and 4 Seater Polaris RZR 1000cc and Can-Am Maverick X3 Turbo RR  Dune Buggy Tours. Our tours are perfect for those who want to explore the Desert on their terms. 
You can rent a Polaris RZR or Canam to enjoy the sights around the vast desert landscapes with your friends or family. Book our Desert Buggy Tours Dubai that allow you to explore the Desert at your own pace while riding through the pink and fossil rocks.
See what all the hype is about—you won't be disappointed! Don't wait any longer! Contact us today to book your Adventures Tour! 
Safety is paramount to Desert Adventures. The Dune Buggy is designed to be safe for children and adults. The vehicle has been designed with advanced safety features incorporated into its design for the best desert experience.
Advanced Safety Features
Safety features include

:
Sturdy suspension:  A four-wheel suspension and a sturdy chassis.

Strong wheels are high-tensile steel so that they won't bend or break easily. You can drive up to 70 km/h on paved roads without worrying about getting stuck in the sand!

Seat belts:

Three-point

seat belts for all riders

Child seats: Child seats for children up to 9 years old

Adjustable steering wheel: Adjustable height steering wheel to fit all heights
ABS Brakes: This feature will help you to stop quickly in an emergency.

Emergency Brake: You can use the emergency brake to stop quickly in case of an accident or breakdown.

Speed Limiters: These limiters will help you to keep your speed under control so that you do not go too fast and crash into other vehicles or objects.

Age Required for ride: Minimum 16 years old can ride Dune Buggy as a driver below 16 years can ride as a passenger.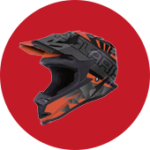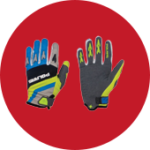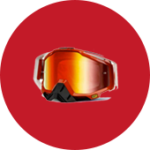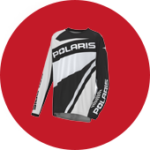 Book Thrilling Experience of Dune Buggy DUBAI Tours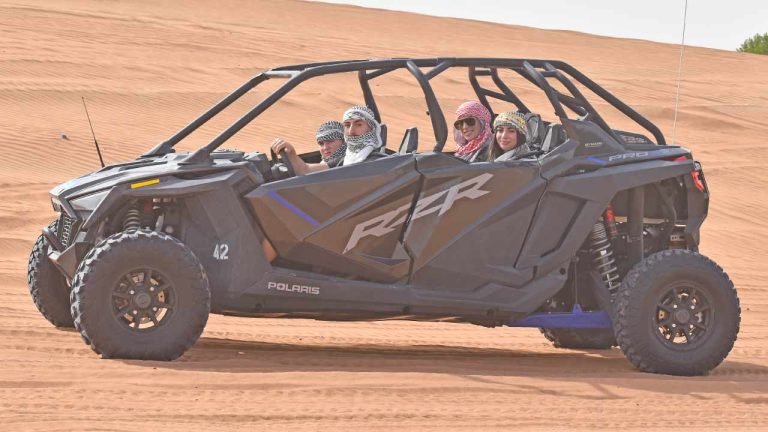 Pack your bags now and book with us for a great Dune Buggy experience!
As the sun sets over Dubai, you're ready to hit the off-road track on your Polaris rzr Desert Buggy Dubai and Sharjah.
You've got your helmet on and are ready to go! You're sitting in the driver's seat with a full gas tank, willing to take on the track. You've got your map out, and you'll find out why Dubai is known as "the city of sand."
You'll be taking on some of the most scenic landscapes in the deserts of Dubai, where you'll see some fantastic sights with some adrenaline-pumping activities in the desert.
Your Desert Buggy Dubai adventure starts now!
Our Desert Buggy Dubai Tours are a fun way around the Arabian desert with a Hotel pick-up and drop-off service. Our professional guide will contact you for pick up 24 hours in advance. Whether you're looking for a tour that's more serious than just a road trip or if you're looking for something different, Tours has got you covered.
If you're looking for a way to get out of the city and explore the Dubai Desert, try our Desert Buggy Dubai Adventure! We offer a wide range of activities that satisfy your thirst for adventure. Whether you're looking for a tour that will get you off the beaten path or something more traditional, our dune buggy Dubai tours have covered you.
They can take you on rides through the desert, dunes, or wherever you like! Our fleet includes everything from large can-am maverick x3 buggies to smaller buggies.
With an ATV rental tour, you can experience Dubai like never before as you explore its natural beauty. You'll love how driving through the sand dunes feels, where even the wind seems to slow down.
You'll have plenty of time to relax and enjoy your surroundings during this adventurous tour; after all, you've come all this way to see what Dubai offers!
So, leave the stress and crowds behind with a ride in the golden sand!
Fulfill Your Thirst for Buggy Adventures – The Experience
You've seen the movie and want to Dune buggy driving experience firsthand.
We know how much you love offroading, so we thought it would be fun to offer you a chance to explore it in style. That's why we created our rental services that let you do just that!
When you arrive at our ticket counter, one of our friendly staff members will greet you with a smile and help you prepare for your trip. We'll give you a brief rundown of what to expect before setting off on your dune buggy adventure. The first stop will be at our desert tour facility, where we'll inspect your vehicle for any problems or damage that may need repair before driving off into the wilderness.
Then it's time to hit the sands and start exploring! However, things will be different this time as you are with Dune Buggy Rentals, who will make your adventure worthwhile.
If you're looking for a way to get out and about in Dubai but aren't quite sure how to do it, then don't worry. We are here for you.
With our Dune Buggy Rental tour, you can explore the various places in the city with ease and comfort. Dune Buggy Tour around desert dunes and experience the beauty of nature up close. You can also go on a tour through the desert and see some fantastic sights that you would never be able to see otherwise.
Our dune buggies are designed to work with each other so that they can move together as one unit. This means you never get lost, no matter where you are in the desert.
Grab your friends and family because we've got the perfect way to get everyone up and to move. With our Offroad Tours in Dubai, you can take the whole gang on a thrilling adventure of a lifetime! Whether you're looking for something adventurous or want to get out of the house for a night, this is a perfect way.
If you want to book a round-trip package with transportation and BBQ Dinner, dune bashing in the Desert camp included, talk to us about how we can help!
What do you have to offer for the best Desert Buggy Dubai tour?
Whether you're looking for adventure in a motorized ride through dunes or want to take in the beauty of Dubai's desert landscape, our Polaris RZR or Can-am Dune Buggy Tour is sure to impress.
Our dune buggy Dubai tours are great for people of all ages—if you're looking for something relaxing and fun, try one of our more sedate options; if you have more adventurous tastes, try one of our more extreme options. Either way, we can guarantee that your experience will be unforgettable!
Desert buggies are an iconic part of the UAE's history, and you can explore some of the most stunning desert landscapes through a 4-wheel drive. With plenty of activities, you can choose your route based on what kind of experience you want: adventure, relaxation, or sightseeing.
We offer a selection of different models and sizes, so you can choose the one that suits your needs best. To ensure you get the right equipment for your trip, visit one of our experts, where you can rent dune buggies by the hour or day.
Dune Buggy Rides in Dubai is a must for all who want to experience the true face of Dubai. The Buggies are the best way to explore the Arabian desert. They are a great way of exploring the landscape and getting to know the country by driving through its deserts. You can rent Dune Buggy in Dubai for an amazing experience of driving through red sand dunes.
Our Dune Buggy tours are ideal for families, couples, or groups of friends who want to have fun while they are up for an buggy adventures around the desert areas. You can choose between three models: one with four seats, two seats, and one seat. These vehicles allow you to drive at your own pace and enjoy some time out on your trip. Or you can let our expert drivers do it for you.
We offer different options for off-road Adventures in the Arabian desert to suit your budget and needs than other Dune Buggy rental in Dubai. Depending on your requirements, you can hire a dune buggy rides in Dubai for 30 Minutes, 1 Hour, 2 Hours, 3 Hours, or more with a free sandboarding experience for offroad fun and an adrenaline rush. If you want to rent it for a more extended period, we will be happy to help you with that too! Our friendly staff members can always assist you with queries or questions.
Our family-owned and operated company has provided our clients with the most fantastic customer service for over 20 years. We have a team of qualified staff who are friendly and knowledgeable, which makes them a pleasure to deal with. Our services are top-notch, and we aim to provide the best experience possible to all our customers.
We offer our clients a variety of riding options. We have dirt bikes, buggies, quad bikes and ATVs. Moreover, the most luxurious of all is the desert Safari. You can cancel up to 24 hours in advance and you can get full refund.
We provide safety instruction and training for all our customers, so they can feel comfortable riding independently. Our experienced guides will ensure you have a safe and great time on your tour!
Our guides are friendly and knowledgeable about the desert, culture, history, and traditions. They will make sure you have an unforgettable experience while in Dubai!
You will be riding on new bikes customized to fit height, weight, and riding style, from teen to adults! These bikes will provide you with a fantastic ride throughout the desert!
Everyone can ride our ultimate and unique machines. Not just men but also women contact us and ride with us. You do not need to be an expert to ride our machines.
We have many exciting activities planned for you during your tour in Dubai! You'll experience some fantastic moments, and this tour will be the journey of your lifetime.
A Dune Buggy is an off-road vehicle that is specifically designed for driving on sand dunes. They usually have a lightweight frame and large tires with low pressure, which helps them navigate the sand more easily.
There are many companies that offer desert tours in Dubai. You can find them by doing a search online on google.
The rent price are varies depends on the company you rent from and the length of time you want to rent it for. However, you can expect to pay around 900 AED per hour. 

When driving a RZR in Dubai, it is important to dress for the desert conditions. This means wearing light, loose-fitting clothing such as long sleeve shirt in winter and, and closed-toe shoes. You should also apply sunscreen and drink plenty of water to stay hydrated.